At a glance
Assist disabled children with their horse riding sessions, so they can achieve their therapy goals and improve their overall wellbeing.
These sessions are part of their rehabilitation, helping them to develop mental, physical, and social skills.
Our partner organisation, which runs these therapy sessions, is entirely dependent on interns like you.
16 or over
You need to speak basic English
Is an equine therapy internship right for me?
Are you interested in psychology or alternative therapy practices? Have a love for horses? Enjoy working with children and helping them thrive? If you answered yes to any of those questions, then this project is ideal for you.
It's an excellent experience for those who are planning a career that involves helping others to overcome obstacles. It's also a great option for those interested in a career working with animals. You can build your CV with this unusual yet fulfilling work experience that will help set you apart from the crowd.
We welcome interns of all ages and levels of experience. We provide you with training at your placement, so that you know exactly what you need to do.
This project runs throughout the year, except for the local school holidays. You need to stay for at least four weeks, however, in order to join. This will allow you to put your training into use and make a considerable impact. You'll stay long enough to really witness the improvements of the riders as they develop in skill and confidence.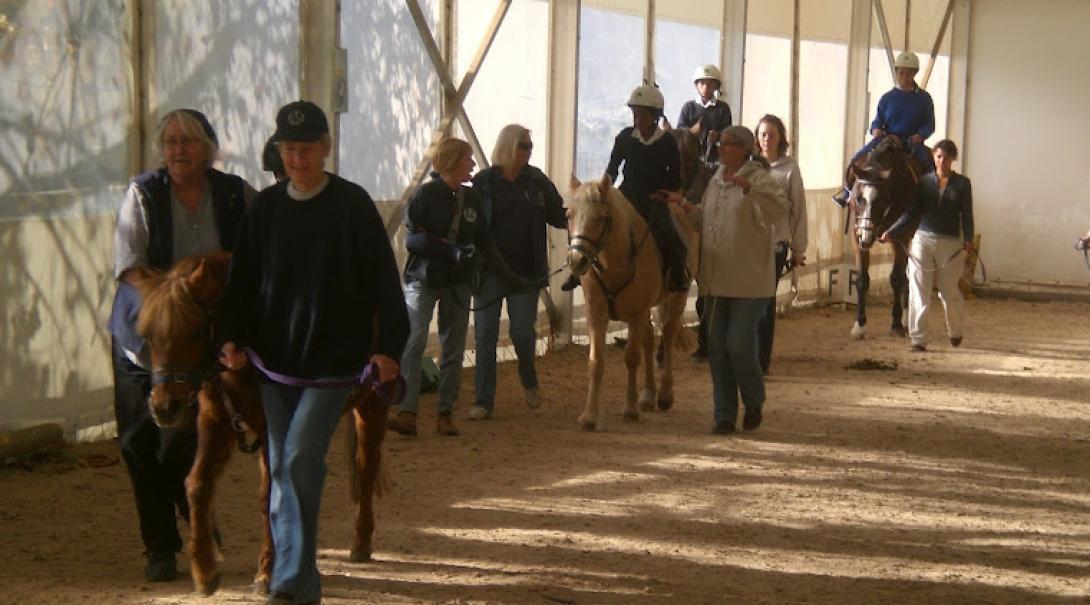 What will I do on this project?
You can take on different roles on this project, which makes for a very interesting and broad experience. Tasks you will get involved in include:
Lead the horses and their riders during therapy sessions
Help to communicate instructions to the rider
Groom and care for the horses
Learn different equine therapy techniques
Lead the horses and their riders during therapy sessions
One of the roles you can take on during the therapy sessions is that of "leader". As the name suggests, you will direct and guide the horse during the therapy session. You'll give instructions to both the horse and rider, and ensure the animals do what is required of them.
Help to communicate instructions to the rider
Another option is to act as a "side-walker", which is the term for someone who acts as a helper between the rider and the horse. Your role here is to relax the rider and provide support.
You will reinforce the instructions from the leader, and help the rider understand what they are being asked to do. In this way, you'll build up a rapport with the rider and help to build their confidence.
Groom and care for the horses
After a day of riding and helping their patients to improve their skills, the horses will need some care too. You will help wherever is necessary, for example, with feeding, grooming, and mucking out stalls. It's a great bonding experience with these beautiful creatures.
Learn different equine therapy techniques
Through both observation and practical work, you'll get to learn more about the different equine therapy techniques. As an intern, you'll be able to ask questions and learn from the supervisors at the centre. It's a great way to see first-hand how these different techniques are implemented.
Our partners in South Africa
We have partnered with the South African Riding for the Disabled organisation (SARDA), which was established in Cape Town in 1973. The centre's aim is to provide people with disabilities the opportunity to take part in therapeutic and recreational horse riding. This kind of therapy has a multitude of physical, mental and social benefits. SARDA works with children aged six and over, as well as adults. With the help of our volunteers, SARDA serves around 200 riders per week.
Where in South Africa will I work?
Cape Town
You will be based in Cape Town, South Africa. Your placement is located in a leafy green suburb. You'll be picked up and dropped off each day by our trusted transport partner.
There is so much to explore during your free time. Cape Town is a vibrant city with amazing views and a rich cultural heritage. You can try out the local restaurants, visit famous historical monuments, or spend some time taking in the natural wonders.
A typical day on the Equine Therapy Project
After enjoying breakfast at the home of your host family, you'll be picked up and driven to your placement in a beautiful Cape Town suburb.
A typical day on the Equine Therapy Project runs from 8.30am - 5pm, Monday to Friday, with a break for lunch.
There can be between two to six classes per day. The schedule varies according to which groups, schools, and individuals have booked sessions. Sometimes there are last minute cancellations, so you need to be flexible.
Classes last for an hour, including saddle up time. Your exact role will be determined by the supervisor, and is based on your confidence and level of experience.
Each class has around eight riders, along with their instructors and helpers. Children aged six and over from special-needs schools around the city come to the riding centre on a weekly basis. All in all, the centre serves around 200 children per week.
Apart from the therapy classes, you'll also assist with the care of the horses. Spend some time nurturing these beautiful animals, helping with their grooming and feeding, for example.
Once you're done for the day, it's time to explore your new host city. Get to know your host family over a delicious dinner, or explore the city with fellow volunteers. You can join in on our regular volunteer and intern socials and activities, like climbing Table Mountain together or visiting Robben Island. This is a great way to make new friends from around the world, and get to know our staff members.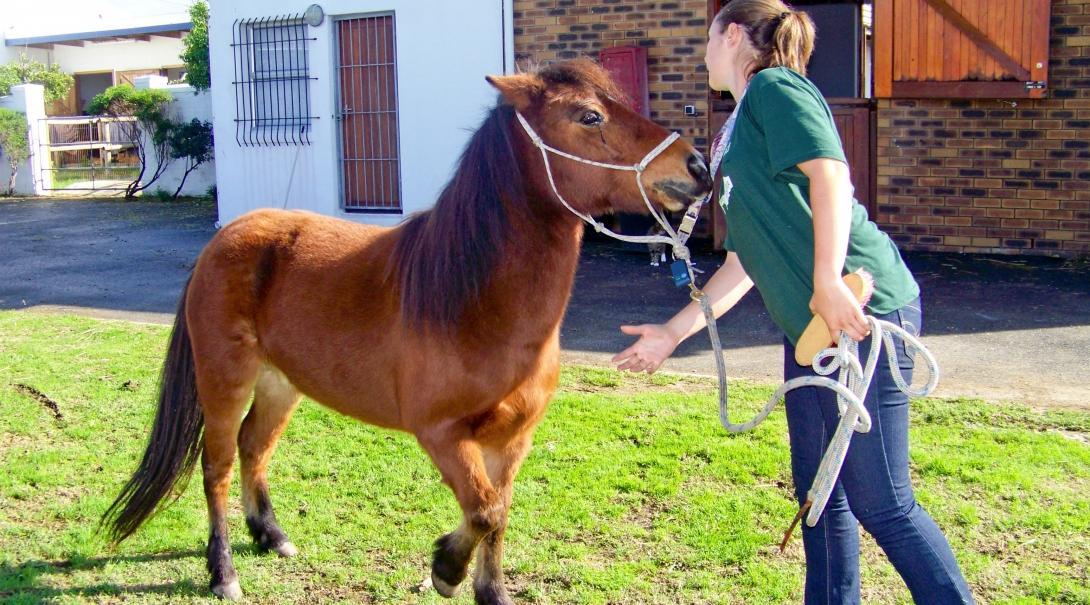 What are the aims and impact of this project?
The aim of this project is to help disabled children with their rehabilitation through equine therapy. We also want to create an environment where you can learn new skills and gain experience.
Each week our partner organisation provides free riding lessons to 180 riders from 13 special-needs schools in the Western Cape. The Western Cape Association for Persons with Disabilities reports that 82% of those with disabilities live below the poverty line. Many of the children who attend the centre would otherwise not be able to afford or have access to this kind of rehabilitation.
Not only do the horse riding lessons help to improve their physical abilities, but they also have psychological benefits as well. These include improved self-esteem and independence. Most of all, it's a way for children to have fun and engage with the gentle animals.
As these lessons are free, the organisation relies on volunteers and interns to ensure they can continue these life-changing therapy sessions. Join an equine therapy internship in South Africa and help enhance the lives of local children.
Management plans
We set out the aims and objectives of our projects in documents called Management Plans. We use them to properly plan the work you'll do. They also help us measure and evaluate our achievements and impact each year.
Ultimately, our Management Plans help us make our projects better. This in turn means you get to be part of something that makes a real impact where it's needed. Read more about our Management Plans.
Measuring our impact
Our projects work towards clear long-term goals, with specific annual objectives. Every volunteer and intern we send to these projects helps us work towards these goals, no matter how long they spend on our projects.
Every year we take a step back and look at how much progress we've made towards these goals. We put together a Global Impact Report, which documents our achievements. Find out more about the impact our global community of volunteers, interns and staff make, and read the latest report.
Food and accommodation
You'll stay with a host family in Cape Town. They will welcome you into their home, eager to share their customs and have you teach them about your own culture. We believe that this is the best way to immerse yourself in the culture of South Africa and have a truly unique experience.
We will always try to let you live alongside at least one other Projects Abroad volunteer or intern at the same host family. Your room will be modest, but comfortable, clean, and safe.
Your programme fee includes three meals a day.
Find out more about our accommodation.
Leisure activities and free time
Known as the Rainbow Nation, South Africa has a diverse mix of cultures. Our projects are based in Cape Town, a region filled with an exciting variety of activities to do during your free time.
You can catch a wave at Muizenberg beach or just relax in a seaside restaurant. There's plenty of local cuisine to try, including delicately spiced Cape Malay curries and the creamy milk tart dessert.
South Africa has a difficult past, which you can learn more about at the District 6 Museum and Robben Island.
For an awe-inspiring experience, you can spend the day getting lost in the towering silos that make up the Zeitz Museum of Contemporary Arts Africa. Finally, no trip to Cape Town would be complete without a cable car ride up iconic Table Mountain.
We run many different projects in South Africa, so there's sure to be other volunteers in the country with you. So if you want to travel with a group, you're sure to find like-minded people who'll join you on your adventures.
Safety and staff support
Your safety and security is our prime concern. We have many procedures and systems to ensure you have the support you need to enjoy your trip with peace of mind. Our Projects Abroad staff are available 24 hours a day to help, and will be on-hand to make sure you settle in well at your accommodation and placement. If you encounter any problems, they will be available to help at any time.
Find out more about safety and backup.
Meet the team in South Africa
Not quite what you're looking for?
Take a look at the following pages where you'll find collections of similar projects: