At a glance
Join our Mandarin language Course in China. Learn from a experienced language teacher and practice your skills with native speakers. Your classes will be tailored to your extract level.
Speaking Mandarin is a valuable skill today and china have a huge influence on business today so learning mandarin will help your future career.
You will live in a shared apartment and have plenty of time to enjoy sightseeing and practice your newly learned Mandarin skills.
Is learning Mandarin in China right for me?
Our Mandarin Language Course in China is perfect for anyone looking to learn a language by interacting with native speakers on a daily basis.
Studying Mandarin in China is useful if you're pursuing a career in areas like business or international affairs. You can also learn if you have a passion for languages, or if you want to travel through China. It's also valuable if you're volunteering or doing an internship with us, and want to learn basic phrases you can use at your project.
You'll have lessons with an experienced language teacher. Your classes will be tailored according to your level, whether you're a complete beginner, or confident having a basic conversation.
You can study Mandarin in China full-time, or do it as an add-on course with one of our projects. Add-on courses are available for 5-hour, 14-hour, or 30-hour segments. Our Language Course is open all year round, and you can join at any time. You can join from a minimum of one week, but the longer you stay, the more you'll be able to learn.
What will I do during my Mandarin Language Course?
The activities you will be involved in will depend on whether you choose a standalone course, or study while doing a project. Here is what you can expect to do:
Learn Mandarin from a qualified teacher at a local language centre
Immerse yourself in Chinese culture by talking with the locals and exploring the sites
Assist with volunteer or internship work by combining your language course with another project
Here are the focus areas for this project:
Learn Mandarin
You'll have Mandarin lessons with qualified teachers. Your classes are tailored to suit your skill level. You can ask the teacher to focus on specific topics you're interested in, and they'll help you with pronunciation.
You can choose to study full-time, or through an add-on course that you can combine with one of our projects. Our standalone course will provide you with 15 hours of tuition a week. The add-on courses can be taken for 5, 14, or 30 hours of lessons.
Explore China
Being in China to learn Mandarin gives you the chance to study with a native speaker, and practice with different native speakers from all walks of life. In your free time, we encourage you to speak to as many people as possible to improve your conversation.
You can order your next meal at a Chinese restaurant, have a chat with the local tour guides, or haggle with traders at nearby markets!
Assist with valuable volunteer projects
You can join one of our language add-on courses if you sign up to volunteer or intern on one of our projects in China. You can work at a law firm, shadow doctors in a regional hospital, and more.
This language course will make working with local Mandarin speakers easier. They will also respect the effort you have gone through to communicate with them in their own language.
Where in China will I be studying?
Shanghai
You'll study Mandarin at a language centre in Shanghai.
With over 25 million people living within its borders, Shanghai is the perfect city to practice your newly acquired skills. There is plenty to do and lots of opportunities to practice during your free time. You can haggle with traders at the local markets, or try and order your food in Mandarin at local restaurants.
A typical day studying Mandarin in China
A typical day will depend on whether you choose to study full-time or do an add-on course.
You'll have lessons at the language centre from Monday to Friday, with your weekends free. The hours you spend in class each day will be discussed and agreed upon by you and your teacher. Typically, a full-time course involves 15 hours of lessons per week.
You'll start each day with breakfast with the other volunteers and interns in your shared apartment. You'll catch the train to your lessons, which will take place either in the morning or in the afternoons. Depending on your level of skill and when you arrive in China, you may have your classes alone, or with a small group.
Whether you are a complete beginner or have been learning Chinese for many years, studying Mandarin in China will help your skills progress quickly. You can spend your free time practicing your conversation with the locals. You can use Mandarin with the tour guides on a sightseeing trip, or order dinner in a Chinese restaurant.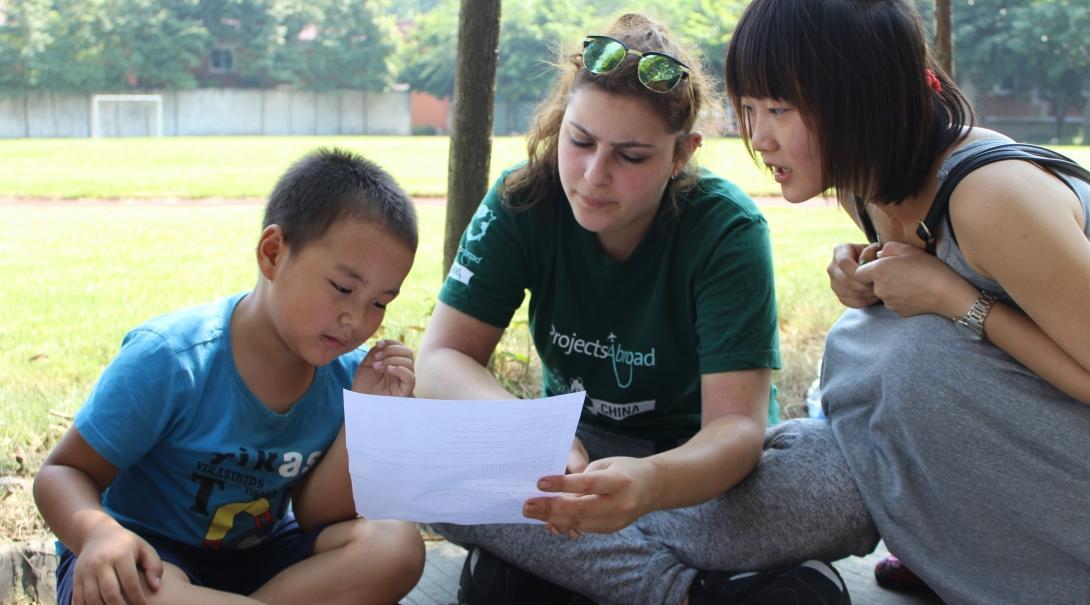 What are the aims and impact of the Mandarin Language Course in China?
The main aim of this project is to teach you Mandarin and give you the opportunity to practice what you learn with native speakers.
Mandarin has become the most spoken language in the world, with over 1.2 billion native speakers. China is a major player in the business world, so learning Mandarin is especially important if you are looking for a career in business. You may end up working with Chinese companies!
You'll be able to learn basic Mandarin words and phrases, and your teacher will focus on improving your ability to have a conversation. What you learn depends on your skill level and interests. For example, if you're planning on doing a medical internship in China, it would be useful to learn medical terms in Mandarin.
Learning a new language is much easier when you are able to surround yourself with native speakers. You'll constantly hear the accents, and how words are pronounced. When you communicate in Mandarin, local people are more willing to speak with you. They're also happy to help you practice conversation, so you can learn more.
Improve your Mandarin skills by joining us on a standalone or add-on Language Course in China.
The project runs all year round, you can start on any day, and it's fully supervised. So all you need to do is decide on some dates, complete our application form with a £195 deposit and we'll take care of the rest.
Measuring our impact
Our projects work towards clear long-term goals, with specific annual objectives. Every volunteer and intern we send to these projects helps us work towards these goals, no matter how long they spend on our projects.
Every year we take a step back and look at how much progress we've made towards these goals. We put together a Global Impact Report, which documents our achievements. Find out more about the impact our global community of volunteers, interns and staff make, and read the latest report.
Food and accommodation
You'll share accommodation with other Projects Abroad volunteers and interns during your stay in Shanghai. This is a great way to get to know your fellow volunteers and interns, share experiences, and explore your surroundings in your free time together.
The accommodation is safe, clean, and comfortable. Your program fees include three meals a day.
Find out more about our accommodation.
Leisure activities and free time
China is a vast country so it's no surprise that it offers a wide variety of different tourist activities. While you're volunteering, there will be plenty for you to do in the evenings and over the weekends.
What's extraordinary about China is the contrasts of ancient and modern, rural and urban. You'll find gleaming skyscrapers, like the Oriental Pearl Tower, only a short distance from the tranquil Yuyuan Garden.
There's plenty to explore in the city, but it's also worth taking a trip to the countryside. There you can trek along the breathtaking silk route or visit a Buddhist monastery.
A trip to China wouldn't be complete without touring the country's many natural wonders and World Heritage Sites. This includes the Great Wall of China, the Yangtze River, and the Terracotta Army.
With plenty of other volunteers in China, you'll have the opportunity to travel with others and explore as a group. Or, if you prefer, you're welcome to do your sightseeing independently.
Safety and staff support
Your safety and security is our prime concern. We have many procedures and systems to ensure you have the support you need to enjoy your trip with peace of mind. Our Projects Abroad staff are available 24 hours a day to help, and will be on-hand to make sure you settle in well at your accommodation and placement. If you encounter any problems, they will be available to help at any time.
Find out more about safety and backup.
Not quite what you're looking for?
Take a look at the following pages where you'll find collections of similar projects: