At a glance
Work alongside other French speaking teenagers and shadow doctors in a clinical setting. Learn how to diagnose and treat many different diseases and conditions.
During outreaches, you'll treat minor wounds, and measure blood sugar and blood pressure levels.
You'll also help raise awareness of disease and how to prevent it by making presentations on common health issues.
You'll live with a local host family who will welcome you with open arms; this will be your home away from home.
Join social and cultural activities as well as weekend sightseeing trips
15-18
You must be fluent in French to join this project
Is a Medicine internship in Togo right for me?
This project is perfect for French speaking volunteers considering a future career in medicine. All work will be conducted in French, allowing easy communication with staff and project partners. This will help you integrate within the community more easily and discuss medical issues at a higher level.
You'll get medical work experience by shadowing doctors on their rounds, and participating in outreaches. This will give your resume an extra edge, and give you interesting points to talk about in applications and interviews.
Not only will this internship give you the opportunity to see if medicine is a good fit for you, but you'll also be able to help those living in underprivileged communities. This will demonstrate your commitment to medicine.
This High School Special is specifically designed to give you as much support as possible, and our staff are always on hand to help. You'll be part of a group with other French speaking teenagers your age throughout the trip, whether you're working or sightseeing. You don't need any previous experience to join. All you need is enthusiasm and a willingness to work hard!
The Medicine Internship in Togo runs on fixed dates, so all you need to do is pick the dates that fit your schedule.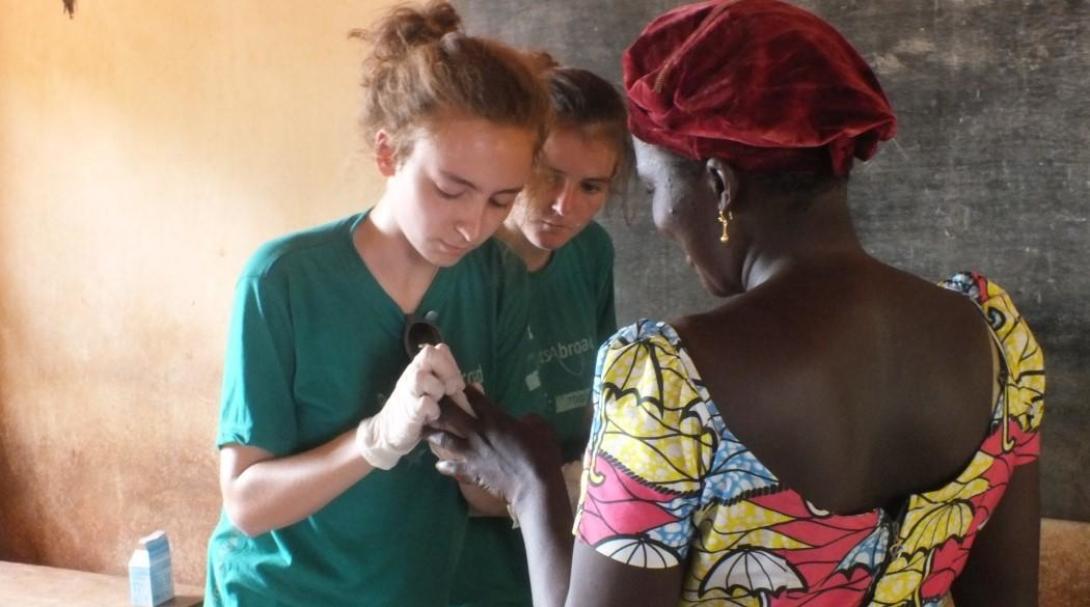 What will I do on this project?
As a teenage medical intern in Togo, you'll split your time between shadowing doctors and doing outreach work in the community. Here's what you can expect be involved with:
Your work will be split into three areas:
Observe the work of qualified doctors as they treat patients in a local clinic
You will do observation work in a clinic setting. You'll shadow doctors and nurses as they go about their day-to-day activities. You'll watch them consult and treat patients, and complete follow-up consultations with previous patients. This will give you a better idea of what it will be like as a practicing doctor.
We encourage you to ask questions and take notes, so you can learn as much as possible from observing. You will see conditions such as typhoid and malaria on almost a daily basis and learn about medical issues that are uncommon in your home country.
Assist professional medical staff as they provide free health checks during community outreaches
Most of your time will be spent working at medical outreaches in communities and schools. This is particularly important as certain topics like sexual education are still considered as taboo and rarely provided in Togo. You'll be involved in more hands-on work during these outreaches. These include:
Dressing wounds
Carrying out health checks, like measuring blood sugar and blood pressure levels
Giving malaria tests
Supporting HIV/AIDS centres
Making presentations on disease prevention.
Explore Togo with other high school students who have similar interests to you
You'll spend everyday working and traveling alongside other teenagers with an interest in medicine.
When you're not working, your supervisors will ensure there are plenty of social and cultural activities to keep you busy, along with weekend trips. You'll explore forests full of butterflies and have a guided tour of the mountains of Kouma Konda. You'll also visit Womé waterfall and learn about the country's arts and crafts. You'll sample authentic Togolese food and haggle with traders at their local markets.
Where in Togo will I be working?
Lomé
You'll work in and around Togo's capital city of Lomé. Here you'll visit clinics and communities around the region. This will provide a great insight into different communities.
Lomé is a great place to live and work. You'll stay with a local host family who will be your home away from home, and you will travel on weekends, seeing more of this incredible country
What are the aims and impact of this project?
The main goal of this project is to give you the opportunity to learn and gain practical medical work experience.
You'll learn by observing doctors and nurses on their rounds. You'll see firsthand what their day-to-day work involves, which may help you decide if a medical career is the right fit for you.
You'll get practical experience working on outreaches. In Togo, basic healthcare services are often unavailable for people in rural, under-resourced areas. They either can't afford treatment or live too far away from hospitals and clinics. We go into these communities to provide free, basic medical care.
We'll teach you basic medical skills, like measuring blood pressure and blood sugar levels. You'll use these skills to help patients. This is a great way to give back, and demonstrate your commitment to medicine at the same time.
Gain medical work experience in Togo and help bring healthcare to communities in need, while building your medical knowledge
Management plans
We set out the aims and objectives of our projects in documents called Management Plans. We use them to properly plan the work you'll do. They also help us measure and evaluate our achievements and impact each year.
Ultimately, our Management Plans help us make our projects better. This in turn means you get to be part of something that makes a real impact where it's needed. Read more about our Management Plans.
Measuring our impact
Every year, thousands of High School Special volunteers and interns actively make a difference around the world. During their time abroad, they contribute towards achieving long-term goals and make a long-lasting positive impact on the communities where they work.
We produce an annual High School Specials Impact Report, which documents some of these achievements. Find out more about the impact of these projects, and read the latest report.
Food and Accommodation
You'll stay with a local host family in Lomé, Togo's capital city. Togolese families are famous for their generous hospitality, and pride in their home country. You'll be able to get to know your new host family, learning about their history and culture, as well as sharing your own.
Your host family will provide you with breakfast, lunch and dinner each day. Togo is famous for its delicious cuisine, so you'll be able to sample lots of traditional dishes, as well as a few Western meals too! If you're interested in food and cooking, you might even be able to help cook some dishes, learning some tips and tricks from your host family.
On our High School Specials, we will always try to have you share a room with at least one volunteer or intern of the same sex and approximate age. Your room will be modest, but comfortable, clean, and safe.
Find out more about our accommodation.
Safety and staff support
Your safety and security is our prime concern. We have many procedures and systems to ensure you have the support you need to enjoy your trip with peace of mind. Our Projects Abroad staff are available 24 hours a day to help, and will be on-hand to make sure you settle in well at your accommodation and placement. If you encounter any problems, they will be available to help at any time.
Find out more about safety and backup.
Not what you are looking for?
Take a look at the following pages to discover similar projects: