Join our Public Health internship in the Philippines and gain practical experience in basic community healthcare. This project takes place outside of a hospital environment and focuses instead on vulnerable communities in the Cebu province.
According to the Department of Health in the Philippines, non-communicable diseases (NCDs) such as diabetes and heart conditions account for seven out of the ten leading causes of death. We need your help to educate people about the importance of healthy living.
You'll do this by working with doctors and nurses to do basic health checks during home visits and outreaches. You'll also run workshops to help promote healthy lifestyle choices and hygiene practices. In the process, you'll learn skills like measuring blood pressure. You'll also gain invaluable public health work experience in the Philippines which can be added to your CV.
You'll work in Bogo City or the Municipality of San Remigio and live with a local host family. Evenings and weekends are your free time to explore the cities, beaches, and mountains.
When you apply you only pay $295, which comes off the total price.
Looking to do more than one project? Call us on (+1) 917 810 4744 to see if we can offer a discount.
Project Overview
Flexi Trips - A flexible project that gives you the support and independence you need as you volunteer
Philippines > Public Health
Completely flexible dates
Anyone aged 16 or over can join
What's included in the price?
Accommodation

Food (three meals a day)

Travel and medical insurance

Airport pick-up and drop-off

Full induction and orientation by an experienced staff member on arrival

Transport to and from your work placement

In-country support and 24-hour back-up from our team of full-time local staff

Emergency assistance from our international emergency response team

Project equipment and materials, including access to our database with thousands of resources

Training and workshops from our experienced local staff

Regular social events and community activities with other volunteers and interns

Access to our local office with internet connection

Certification of project completion

Access to our alumni services and discounts

Visa support and advice

Fundraising support, including your own personalized fundraising website

Pre-departure preparation by your own specialist Volunteer Advisor

Personalized MyProjectsAbroad website, with all the information you need about your project, accommodation and destination

A cultural awareness course

Membership to our volunteer social media groups, to share information and to get in touch

A supervisor/mentor at your work placement

Support to help you complete registration or internship documents, if applicable
What's not included?
Flights

Visa costs (where applicable)
Is this Public Health placement in the Philippines right for me?
This project is ideal for anyone looking to pursue a career in healthcare. You'll gain gain hands-on experience conducting basic health checks. You'll work alongside medical professionals on a daily basis, who will offer you guidance and supervision.
Use this experience in the Philippines to add some practical work experience to your CV. Talking about what you learned during your internship in interviews will also give you an extra edge. Gaining public health work experience in the Philippines is also great for students interested in applying for medical school.
You don't need any prior experience. We'll teach you everything you need to know.
Our Public Health internships in the Philippines run year-round and require you to participate for a minimum of one week. We encourage you to stay longer, so you can see and learn as much as possible.
What will I do as a Public Health intern in the Philippines?
Joining our Public Health Internship in the Philippines is a great way to gain practical experience in basic healthcare outside of a hospital environment. Here are some of the tasks you'll help out with
Conduct health checks for families in their homes
Raise awareness about healthcare, nutrition, and hygiene
Give cooking classes, focusing on healthy and affordable meals for families
Record, analyse, and report clinical data
Your work will focus on the following areas:
Conduct screening outreaches
As a Public Health intern in the Philippines, you will help us do house-to-house surveys and screenings. You will conduct basic medical checks for families, such as temperature, pulse rate, blood pressure, and weight. Blood sugar or cholesterol level tests may also be included.
Raise awareness about healthcare, nutrition and hygiene
During these home visits, you'll also talk to the family about making healthy lifestyle choices. Being in a familiar setting helps them feel more comfortable with receiving basic medical advice.
You will also get the opportunity to run workshops on health-related topics in various communities. Topics you could cover include:
Dangers of smoking and alcohol abuse
Dental care
Nutrition and healthy lifestyle
Hypertension and diabetes
First aid
Present cooking classes making healthy, affordable meals
While conducting house visits, you will also educate families about the benefits of eating locally-produced, natural food instead of processed food.
Along with this, you will also be able to show them how to prepare a few basic dishes that are wholesome and can feed the entire family.
Record, analyse, and report data
Recording, analysing, and reporting on your findings with your programme coordinators is an important part of your internship.
You will use a database to record all patient details, which can then be used to refer back to information collected at previous consultations. Follow up and evaluation of intervention is completed after each visit. This helps us track and monitor long-term outcomes through our Global Impact Database.
Where will I be working in the Philippines?
Bogo City
Bogo may be a relatively small city, but it's got everything you need to live comfortably, including shopping centres, ATMs, and restaurants. It's also got a few impressive heritage sites that are definitely worth seeing while there.
You will be working in several disadvantaged communities within and on the outskirts of the city.
San Remigio
Home to Cebu's longest coastline and clear, cobalt blue waters, it's any ocean-lover's destination. Immerse yourself in this little slice of paradise during your free time over weekends and after work.
Like Bogo City, you'll also work in disadvantaged communities with limited access to healthcare services.
A typical day as a Public Health intern in the Philippines
A typical day will run from about 8am to 5pm, with an hour and a half set aside for lunch.
You will normally start your day by meeting your fellow interns, supervisor, and coordinators at the office. From there, you will set out for your morning house visits.
If you're working close to your host family's home, you can head home for lunch and a bit of a rest. On days you're working in communities further away, you will get a packed lunch.
Afternoon shifts are normally dedicated to community workshops and cooking classes.
You will also get one day a week to record, analyse and report on findings along with coordinators and inputting this information into our Global Impact Database. Some time can also be set aside to create educational presentations or attend skill improvement workshops.
What are the aims and impacts of this project?
There are two main aims of this project: to help you develop your skills and to help improve the overall health of disadvantaged communities.
Our Public Health Project focuses on a healthy lifestyle programme, which aims to reduce the occurence of non-communicable diseases. These include diabetes, heart disease, and high blood pressure. According to the Department of Health in the Philippines, these diseases account for seven out of the ten leading causes of death. Poor nutrition, smoking, drug and alcohol abuse also contribute to the the prevalence of non-communicable diseases.
As a Public Health intern, you can help address these issues by helping us conduct house-to-house surveys and screenings. You will also be able to use this time to educate families on healthy lifestyle choices.
What's more, you'll also be gaining invaluable professional experience. We want to equip you with the knowledge and practical skills to pursue a career in healthcare. You'll have medical professionals with you during outreaches, giving you the chance to learn from them and ask questions.
We have identified five goals in our Medical Management Plan for the Philippines. These are to:
Encourage an understanding of medical practices and promote an exchange of medical knowledge
Promote awareness of non-communicable diseases
Improve the quality of specialised or alternative healthcare provided
Improve the quality of healthcare provided to patients
Improve hygiene standards
Help us achieve these long-term goals by joining us as a Public Health intern in the Philippines.
As well as conducting the surveys for the programme, I was also able to help out at different events across the community including vaccination clinics for babies and small children. At these clinics I measured the length and weight of the babies and was also allowed to give oral polio vaccinations to those who needed it.
Public Health Internship in the Philippines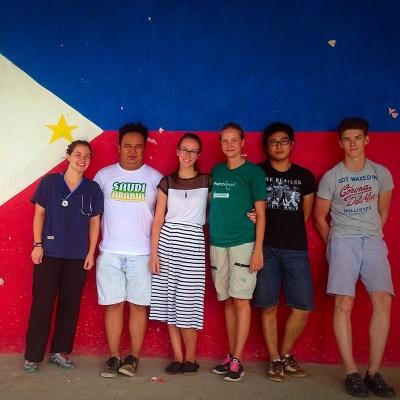 One of the most rewarding components of my stay in Bogo, was that I was fully immersed into the Filipino culture by living with a local family for the duration of my trip.
Public Health Internship in the Philippines
Management Plans
We set out the aims and objectives of our projects in documents called Management Plans. We use them to properly plan the work you'll do. They also help us measure and evaluate our achievements and impact each year.
Ultimately, our Management Plans help us make our projects better. This in turn means you get to be part of something that makes a real impact where it's needed. Read more about our Management Plans.
Measuring Our Impact
Our projects work towards clear long-term goals, with specific annual objectives. Every volunteer and intern we send to these projects helps us work towards these goals, no matter how long they spend on our projects.
Every year we take a step back and look at how much progress we've made towards these goals. We put together a Global Impact Report, which documents our achievements. Find out more about the impact our global community of volunteers, interns and staff make, and read the latest report.
Meet the team in the Philippines
Not quite what you're looking for?
Take a look at the following pages where you'll find collections of similar projects: