At a glance
You'll monitor bats, butterflies and other wildlife alongside scientists in the Barra Honda National Park, a government-run wildlife reserve.
Help combat climate change and deforestation by planting and caring for saplings in the parks nursery.
Plan fun, educational lessons to improve the developmental skills of young children at a local kindergarten.
This project is only for 15-18 year olds
Is volunteering with children and conservation in Costa Rica right for me?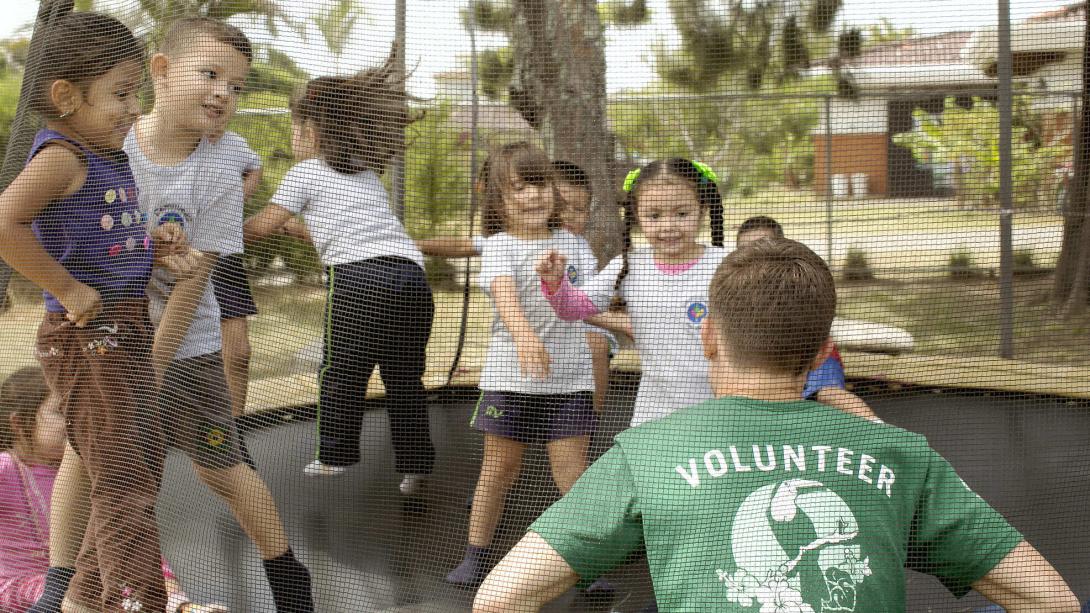 This project is ideal for anyone with an adventurous and caring spirit. If you want to follow a career in conservation or childcare, this project combines the best of both worlds. You'll get practical experience on both fronts and see what the day-to-day is like.
Our conservation project will give you good insight into the ecosystems in Costa Rica and how to go about preserving them. You'll be without some of your home comforts, like Wi-Fi or hot showers, but after a hot day in the forest, a cool shower will be just the thing you need!
You don't need any experience to have an impact. Just make sure you pack your enthusiasm. You'll need it when exploring the different environments and cultures.
Our staff will be with you throughout your stay, so you'll never be alone. We'll have workshops set up for you to learn the necessary skills to make the most of your volunteer work in Costa Rica with other teenagers. You'll also get access to our database with loads of educational resources, such as games, arts, and crafts.
What will I do during my volunteer work in Costa Rica for teenagers?
This two week project is divided into two parts. You'll spend one week doing conservation volunteer work in Barra Honda National Park and the second week with children at a local kindergarten. You'll help with these activities:
Collect data on wildlife to help create effective conservation plans
You'll work with other teenagers to collect data that will support the efforts to protect Barra Honda National Park. Monitoring butterflies and bats is a crucial way to learn more about climate change. You'll analyze the altitude where different species are found to get a clearer understanding of how the Earth is warming.
You'll get to collect this data on day hikes and night walks, through dense forests and dark caves, with the park scientists.
Plant trees to combat habitat destruction and climate change
Forest fires and human expansion has taken a heavy toll on the Costa Rican forests and this impacted all the little (and big) critters that call it home. Part of your job as a budding conservationist is to restore the forest by caring for some of the saplings in the park's nursery and other reforestation efforts.
Plan fun activities to teach children basic development skills
You'll assist at a kindergarten and other care centres with engaging lessons. Keeping lessons fun is an important part of early childhood development. By helping teachers and caregivers plan and entertain kids you teach them essential numeracy and literacy skills.
You'll help teachers and caregivers plan physical activities that help with teamwork and basic physical movements like throwing, balance, and catching. You can also express your creativity with the kids by encouraging arts and crafts activities, as well as singing or making music.
Explore Costa Rica and make friends from around the world
Your project supervisor will make sure there is plenty for you to see and do during your trip. This includes a few planned social activities and sightseeing trips. With trained professionals, you'll get to explore caves, go rafting and experience the Costa Rican forest from a zipline alongside the other volunteers. You might even make friends for life while exploring with the other high school students from around the world.
Project Partners
For this project, we've partnered with Barra Honda National Park. This is a government-run wildlife reserve in desperate need of volunteer support. We provide the park with the manpower to do important conservation work. In exchange, our volunteers work with and learn from some of the top minds in environmental studies.
Where will I work in Costa Rica?
Due to the nature of your project, you'll work in two different locations while you're in Costa Rica:
Barra Honda
Your Conservation volunteer work in Costa Rica for teenagers is based in Barra Honda National Park. This is a government-run wildlife reserve located in the northwest of the country. You'll live and work within the reserve. This area is a lush tropical dry forest with an intricate network of underground caves. You'll stay in shared, same-sex dormitories with volunteers your age.
You'll find that living in the forest is unlike anything you've experienced before. Surrounded by the sounds of chattering monkeys, chirping birds, and buzzing insects, you'll get to truly connect with nature.
Heredia
While you and the other teenagers volunteer with children in Costa Rica, you'll be based in Heredia. It's located in central Costa Rica amidst vast coffee plantations and lush greenery. It has a well-developed tourist industry. However, poverty is still a challenge for many locals. There is always a need for extra assistance at local care centres, many of which lack resources.
What are the aims and impact of this project?
The main aims of this project is to support local staff in their conservation work in the national park, and promote early childhood development in kids.
Costa Rica is home to 5% of the world's biodiversity. Even though it's a small country, it has plenty of indigenous wildlife. However, this wildlife is threatened by deforestation and climate change. It's vital to understand how best to conserve the environment, while also educating locals on how they can play their part.
In terms of childcare, kindergartens and care centres are often overcrowded. This means local teachers and caregivers struggle to divide their attention equally. Because of this, certain children are not able to get the extra support they need.
Conservation volunteer work and working with children in Costa Rica will give you and other teenagers the opportunity to discover what you're capable of. Will you be joining us?
Management plans
We set out the aims and objectives of our projects in documents called Management Plans. We use them to properly plan the work you'll do. They also help us measure and evaluate our achievements and impact each year.
Ultimately, our Management Plans help us make our projects better. This in turn means you get to be part of something that makes a real impact where it's needed. Read more about our Management Plans.
Measuring our impact
Every year, thousands of High School Special volunteers and interns actively make a difference around the world. During their time abroad, they contribute towards achieving long-term goals and make a long-lasting positive impact on the communities where they work.
We produce an annual High School Specials Impact Report, which documents some of these achievements. Find out more about the impact of these projects, and read the latest report.
Food and accommodation
You'll share accommodation with other Projects Abroad travellers during your stay in Costa Rica. This is a great way to get to know each other, share experiences, and explore your surroundings during your free time together.
The accommodation is safe, clean, and comfortable. Your programme fees include three meals a day.
Find out more about our accommodation.
Safety and staff support
Your safety and security is our prime concern. We have many procedures and systems to ensure you have all the extra support you need as a young person travelling abroad. Our Projects Abroad staff are there for you 24 hours a day during the week and over weekends to provide constant support and guidance. Our staff also make sure you feel comfortable and safe at your placement and accommodation. If you encounter any problems, they will be available to help at any time.
Find out more about safety and backup.
Meet the team in Costa Rica
Not quite what you're looking for?
Take a look at the following pages where you'll find collections of similar projects: