Volunteer in Ecuador and experience daily life living and working in the incredible Galapagos Islands. The work you do here is designed to meet real needs in the local community. We offer several different kinds of projects, so you're sure to find something that suits you.
You can do important conservation work in the Galapagos National Park. You'll monitor animal populations, collect data, and remove invasive species. Or you can help to support the education and early childhood development of young children. You can even take the time to brush up on your Spanish, signing up for a language course while you're here.
We are based in the town of Puerto Baquerizo Moreno, on the island of San Cristobal, the easternmost island in the Galapagos. It's a truly incredible place to wake up and work in each day. Local Projects Abroad staff are there 24/7 to support and help you.
There's a lot to see and do during your time off, especially for those of you who enjoy the great outdoors. Take in the scenery on a hike, travel to the different islands, or go scuba diving. See how much of the local wildlife you can spot, the most famous being the giant tortoises!
Projects available in Ecuador
1-3 of 9 Projects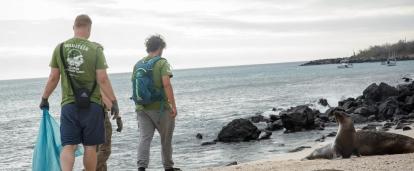 Take a Gap Semester Abroad in South America
See this project
Price:

$8,795 CAD for 8 weeks

Extra Weeks:

$850 CAD

Start Date:

Throughout the year

Minimum Duration:

8 weeks

Ages:

17-24
Giant Tortoise & Sea Lion Conservation in the Galapagos Islands
See this project
Price:

$3,295 CAD for 1 week

Extra Weeks:

$540 CAD

Start Date:

Anytime

Minimum Duration:

1 week

Ages:

16 or over
Volunteer with Children in Ecuador
See this project
Price:

$2,960 CAD for 2 weeks

Extra Weeks:

$440 CAD

Start Date:

Anytime

Minimum Duration:

2 weeks

Ages:

16 or over
Load More
Can't find what you're looking for?
We have the expertise and staff on the ground to create a custom project for you, or simply help you find the best option.
Speak to one of our Ecuador experts on:
(+1) 917 810 4744
or email:
Get in Touch
to start planning your project
Where we are based in Ecuador
San Cristobal
Our Ecuador volunteer opportunities are based in the beautiful Galapagos Islands. More specifically, we work in the town of Puerto Baquerizo Moreno, which is located on San Cristobal Island. It's a small, friendly place, and there is plenty for you to explore.
Check out the giant tortoises, sea lions, and other wildlife species at the national park, or simply take in the breathtaking scenery while you stroll along the beach. You can go island-hopping on the weekend, or travel further afield to the fascinating capital, Quito.
Safety and staff support
Your safety and security is our prime concern. We have many procedures and systems to ensure you have the support you need to enjoy your trip with peace of mind. Our Projects Abroad staff are available 24 hours a day to help, and will be on-hand to make sure you settle in well at your accommodation and placement. If you encounter any problems, they will be available to help at any time.
Find out more about safety and backup.