Volunteer in Tanzania with Projects Abroad and support local communities in need. This is a great opportunity to experience life in East Africa while immersing in local culture and traditions.
There are many different volunteer opportunities in Tanzania to choose from! You can support early childhood education and teach English at a rural Maasai school, help build classrooms. You can also raise awareness about women's rights to empower marginalized communities.
Our projects are based in Arusha and Moshi. These locations are ideal to experience local culture while making a difference. We have dedicated staff on the ground who will be available to assist you 24/7.
Volunteering in Tanzania will open your eyes to a variety of cultures in this region. You'll have plenty of free time to explore! You can visit local markets, buy Batik artworks, and learn about the Maasai tribe.
Tanzania also boasts in amazing nature and wildlife - not to mention the breathtaking backdrop of Mount Kilimanjaro you'll have throughout your trip. With lions, rhino, and elephants, Tanzania is the perfect destination for a safari!
Projects available in Tanzania
1-3 of 19 Projects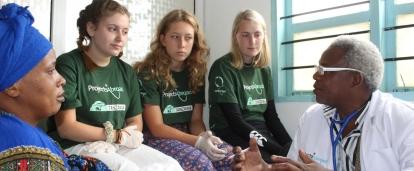 Medical Internship for High School Students in Tanzania
See this project
Fixed dates during school break
This project is only for 15-18 year olds
From 2 weeks
From $3,335 CAD
Building Volunteer Work for Teenagers in Tanzania
See this project
Fixed dates during school break
This project is only for 15-18 year olds
From 2 weeks
From $3,435 CAD
Building Volunteer Work in Tanzania
See this project
Completely flexible dates
Anyone aged 16 or over can join
From 1 week
From $2,795 CAD
Load More
Can't find what you're looking for?
We have the expertise and staff on the ground to create a custom project for you, or simply help you find the best option.
Speak to one of our Tanzania experts on:
(+1) 917 810 4744
or email:
Get in Touch
to start planning your project
Meet the team in Tanzania
Where we are based in Tanzania
Our volunteer opportunities in Tanzania are based in Arusha or Moshi. Our main local office is in Arusha, which is a three hours' drive from our placements in Moshi. We have dedicated staff based permanently in both locations.
Arusha
Arusha is a city nestled at the foot of Mount Meru. It's home to over 400,000 people and has a mix of high-rise buildings and less modern developments. By volunteering here, you'll have exposure to many different aspects of life in Tanzania!
During your free time, you can enjoy the buzzing city center. Visit local markets and buy souvenirs like Batik artworks, or try out local cuisine. There are nearby wildlife reserves which give you the chance to connect with Africa's amazing nature during safaris. You'll even have the chance to learn more about the Maasai tribe while visiting a traditional village.
Moshi
Moshi is a beautiful town with rustic buildings and lush vegetation. It's located in the shadow of Mount Kilimanjaro and is home to around 200,000 people. Communities are mostly rural with many people leading a more traditional lifestyle.
Moshi is ideal for nature-lovers. You'll get a chance to unwind in the African bush. You can spend your free time spotting animals in nearby wildlife reserves or hiking around the base of Africa's highest mountain. Just a short trek through coffee plantations will lead you to the towering Materuni Waterfall!
Safety and staff support
Your safety and security is our prime concern. We have many procedures and systems to ensure you have the support you need to enjoy your trip with peace of mind. Our Projects Abroad staff are available 24 hours a day to help, and will be on-hand to make sure you settle in well at your accommodation and placement. If you encounter any problems, they will be available to help at any time.
Find out more about safety and backup.