Volunteer in Jamaica with Projects Abroad and become part of our ongoing efforts to help where it's needed most.
You'll work with us to achieve long-term goals on various volunteer programmes that address specific needs. Help children improve their reading and comprehension at schools, and do the same with adults in the community. Work outdoors and get your hands dirty building toilets and playgrounds. Or, spend time learning directly from doctors at a hospital.
You'll live and work in and around Mandeville. Our full-time staff in Jamaica are there to support you 24/7 if you need it, wherever you're based.
Get ready to dance to reggae rhythms and enjoy the warm Caribbean sunlight as a volunteer in Jamaica. You can also relax on beautiful white beaches or explore Jamaica's lush green interior on hikes.
Projects available in Jamaica
1-3 of 6 Projects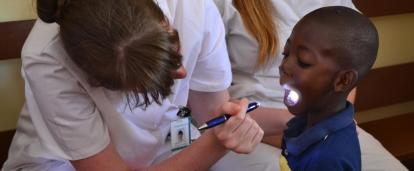 Medical Internship in Jamaica
See this project
Price:

$3,510 CAD for 2 weeks

Extra Weeks:

$490 CAD

Start Date:

Anytime

Minimum Duration:

2 weeks

Ages:

18 or over
Volunteer with Children for Spring Break in Jamaica
See this project
Start Date:

Over Spring Break

Minimum Duration:

1 week

Ages:

18 or over
Psychology Internship in Jamaica
See this project
Price:

$3,510 CAD for 2 weeks

Extra Weeks:

$490 CAD

Start Date:

Anytime

Minimum Duration:

2 weeks

Ages:

16 or over
Load More
Can't find what you're looking for?
We have the expertise and staff on the ground to create a custom project for you, or simply help you find the best option.
Speak to one of our Jamaica experts on:
(+1) 917 810 4744
or email:
Get in Touch
to start planning your project
Where we are based in Jamaica
Mandeville
Most of our Jamaica volunteer projects are based in and around Mandeville. We have an amazing local team on the ground in Jamaica who will make your experience one to remember.
Mandeville is situated in the lush an inland university town based in the parish of Manchester. It's about a four-hour drive from the popular tourist destination of Montego Bay.
In and around Mandeville, there'll be plenty to see and do, and eat! We encourage you to try foods like jerk chicken and saltfish and ackee, some of Jamaica's most famous dishes. You can visit idyllic white beaches in Montego Bay and Treasure Beach. Hikes are also a great option for exploring, and we recommend YS Falls or the famous Blue Mountains.
Safety and staff support
Your safety and security is our prime concern. We have many procedures and systems to ensure you have the support you need to enjoy your trip with peace of mind. Our Projects Abroad staff are available 24 hours a day to help, and will be on-hand to make sure you settle in well at your accommodation and placement. If you encounter any problems, they will be available to help at any time.
Find out more about safety and backup.