Medical school applications - if these three simple words are enough to send you reeling, you're probably pre-med student. It can be a stressful process - filling out forms, planning for interviews, and, most importantly, worrying about how to get your application to stand out.
Admissions are extremely competitive. But the good news is there's a solution that'll help you get practical experience, learn more about the field, and boost your CV. That's why the three words that go hand-in-hand with 'medical school applications' are 'medical internships abroad'.
Medical work experience abroad shows the admissions board that you're serious about a career in medicine. It affirms your commitment to understanding global healthcare issues and sets you apart as flexible and able to adapt to vastly different healthcare settings.
But which medical internship is for you? With so many out there, it can be a challenge to narrow down your options.
To make it a little easier for you (we're sure you're tired of sorting through admin for applications!), we've compiled a list of our top four picks of overseas medical internships for aspiring medical students.
1. Medicine in Kenya
This Medicine Project in Kenya gives you the perfect balance between shadowing and hands-on work. You'll work in a low-income private health care facility where you'll learn about the duties of local doctors and nurses. This will give a more rounded experience and understanding of the health care system. This is a chance to gain experience in a formal medical setting. The medical centre where you work will be less equipped than you might be used to, but it's the perfect way to see the innovative ways doctors cope with limited resources.
As part of our medical internship in Kenya, you'll also go on weekly medical outreaches. These outreaches involve taking vital signs, like blood pressure, in remote or rural communities. This gives you practical experience in a more informal setting, all under the supervision of local professionals from the Ministry of Health.
2. Medicine in Mexico
Work in a hospital or health care clinic on our Medicine Project in Mexico. Depending on how long you join for, you can rotate between a wide range of departments. These include gynecology, pediatrics, endocrinology, surgery, and more!
On this internship for pre-med students, you'll spend your days shadowing doctors abroad and learning from them. They'll be able to explain complicated procedures to you and answer any of your questions. You can even sit in on consultations.
The hospital or clinic where you work might not be as well-equipped as what you're used to, but it's a great opportunity to deepen your understanding of the medical field in a developing country.
If you speak a good level of Spanish, no need to venture further than Mexico for the learning experience of a lifetime! Basic Spanish is required to join but an intermediate level will make your experience more worthwhile. It's the perfect opportunity to improve your Spanish skills and even learn Spanish medical terminology.
3. Public Health in the Philippines
Our Public Health internship in the Philippines focuses on tackling some of the most prevalent diseases in the area. Some examples include diabetes, heart disease, and respiratory diseases.
On top of addressing these illnesses, a major focus of the project is eradicating dengue fever. This is a mosquito-borne disease that you probably won't encounter in your home country.
As an intern, you'll take practical steps to combat this disease. You may get involved in workshops on prevention, symptoms, and treatment as well as destroy mosquito breeding grounds to limit the spread of disease. Depending on the time of year, you may even get involved in testing for dengue fever during medical outreaches.
On this medical volunteer opportunity for students, you'll work closely with local community members. You'll spend a lot of your time traveling through rural areas and assisting with medical care during house-to-house visits and outreaches. If not for our help, these remote communities have limited access to health care services.
4. Medicine in Argentina
Get experience in a hospital and smaller health care clinics on our Medicine internship in Argentina. You'll shadow doctors abroad as they do ward rounds and consultations. This is a great way to get first-hand insight into what it's like to work in a hospital.
Health care in Argentina is considered to be of a very high standard, which means you'll get to learn about modern equipment and techniques.
Being a Spanish-speaking country, interning in Argentina is also ideal if you want to diversify your medical knowledge by learning about different medical terms in Spanish. Keep in mind, you need to be able to speak Spanish at an intermediate level to join this project.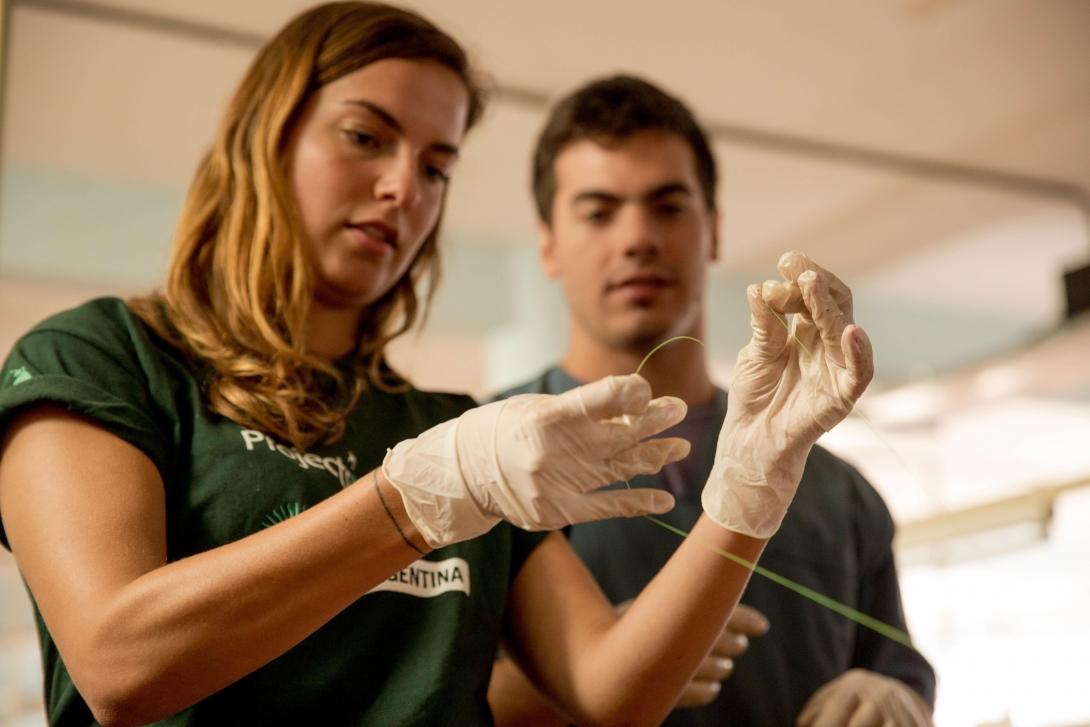 Ace your med school application with an internship for pre-med students
So now that you know our top overseas medical internships for aspiring medical students, take a moment to think about which of these internships best suits your needs. No matter the specialization you choose, there's a medical internship for you.
So, what are you waiting for? Get ready to start planning your trip so you can ace your med school applications, get overseas experience, and become a more well-rounded practitioner.
Want to join a Medical Project?
Contact us to get started!
Want to know more about our Medicine internships abroad?
Get in touch with our Projects Experts. They'll be happy to answer any questions you may have.
(+1) 917 810 4744
Get in Touch