Volunteer with sharks in Fiji and also get your own diving certification. This project will see you dive in the beautiful clear blue waters of the Pacific. You'll help scientists protect one of the most endangered animals on the planet. This project can give you important practical experience if you're pursuing a career in conservation or marine biology.
In Fiji, you'll assist leading shark researchers from the World Wide Fund for Nature (WWF) and Project AWARE. You'll learn how to feed, identify, and tag sharks in their natural marine habitat. All these tasks are done in safe manner. The data you collect will help the fight to keep sharks off the list of critically endangered species.
If you've always wanted to learn how to dive, this project gives you that opportunity. Part of this amazing experience is getting your own PADI diver certification. Experienced divers will also get the chance to gain specialized conservation and DiveMaster qualifications.
The project is based in Pacific Harbour - the adventure capital of Fiji. You'll live in shared accommodation with other volunteers.
'Probably the most important shark conservation project in the world.' – Ian Campbell, Global Shark Programme Manager, WWF.
Price Calculator
Children aged 3-14 must be accompanied by at least one adult paying full price
We offer discounts for families and groups of friends travelling together. Call us on 1 877 921 9666 for more info.
Please note this calculator is for pricing information only. You will need to choose your final dates and duration on our application form.
When you apply you only pay $295, which comes off the total price.
Looking to do more than one project? Call us on 1 877 921 9666 to see if we can offer a discount.
Flexi Trips - A flexible project that gives you the support and independence you need as you volunteer
Fiji > Shark Conservation
Completely flexible dates
Anyone aged 16 or over can join
What's included in the price?
Accommodation

Food (three meals a day)

Travel and medical insurance

Airport pick-up and drop-off

Full induction and orientation by an experienced staff member on arrival

Transport to and from your work placement

In-country support and 24-hour back-up from our team of full-time local staff

Emergency assistance from our international emergency response team

Project equipment and materials, including access to our database with thousands of resources

Training and workshops from our experienced local staff

Regular social events and community activities with other volunteers and interns

Access to our local office with internet connection

Certification of project completion

Access to our alumni services and discounts

Visa support and advice

Fundraising support, including your own personalized fundraising website

Pre-departure preparation by your own specialist Volunteer Advisor

Personalized MyProjectsAbroad website, with all the information you need about your project, accommodation and destination

A free cultural awareness course

Membership to our volunteer social media groups, to share information and to get in touch

PADI diving course

Diving equipment rental

A supervisor/mentor at your work placement

Support to help you complete registration or internship documents, if applicable
What's not included?
Flights

Visa costs (where applicable)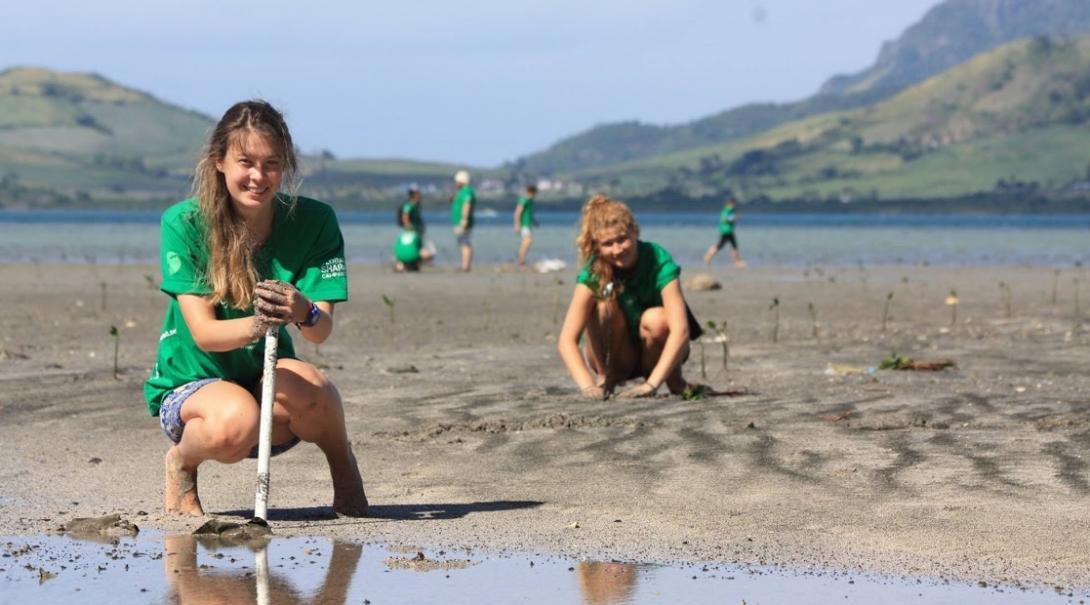 Is Shark Conservation volunteering in Fiji right for me?
This project is perfect for adventurers and thrill-seekers with a passion for nature, marine life, and the outdoors.
If you're considering a career in conservation, this project will be a great option to take. You'll work with some of the top minds in marine biology. This opportunity will see you gain practical, hands-on experience in marine conservation. Add this work experience to your resume. The program will also give you a lot to talk about in future applications and interviews.
You'll receive full training in your first two weeks to get your own personal PADI Open Water certificate. This overseas volunteer experience is thrilling but entirely safe. You'll always be supervised by expert diving instructors from our highly respected dive partners, Beqa Adventure Divers. Their safety record on shark dives is 100%.
If you're an experienced diver, you can choose to receive specialised diving qualifications. These include PADI AWARE Shark Conservation Diver and our exclusive PADI Projects Abroad Survey Diver certificate. The second of these includes training in underwater survey and research techniques. Those staying for eight weeks or more can also train as a Dive Master during this project.
Our volunteer opportunities with sharks in Fiji run all year round, so you can join whenever it suits you. You can volunteer for as short as two weeks, but we always recommend staying longer to have an even greater impact.
What will I do as a volunteer working with sharks in Fiji?
There's a lot of work to be done to help protect sharks and the environment in Fiji. Here's what you can get up to:
Your work can include the following:
Get your PADI diving certification
You'll get your own PADI certification. Because diving is central to the work you'll do. If you're a beginner, you can complete the PADI Open Water Dive Course during your first two weeks. As an experienced diver, you can complete the PADI Advanced Course or PADI Rescue Diver Course.
After doing a diver course, you'll complete the specialized PADI AWARE Shark Conservation Diver course. There will also be training on fish identification, research, and survey techniques as part of the PADI Projects Abroad Survey Diver Distinctive Speciality Course.
Data collection
During the project, you'll help staff collect data from survey dives, Baited Remote Underwater Videos (BRUVs), and shark tagging. This research is central to the project. We share it with global monitoring platforms like eShark and SharkBase. In 2016, our research was one of the top five most important contributions to these databases.
You'll collect data by:
Diving with bull sharks to collect information on the behaviour of individual sharks
Conducting survey dives to record details about different species
Assisting with deploying BRUVs, which are used to study sharks without human presence and interference
Observing as staff tag juvenile sharks to learn more about their lifespan, nursery habitats, and reproduction
Mangrove reforestation
Another important part of your work will be to care for mangrove seedlings in our mangrove nursery. This will include replanting mangroves along the coast.
Mangrove forests are one of the most important ecosystems in this region. They act as nurseries for many different fish species and help reduce carbon emissions. We've partnered with local businesses to work out their carbon emission levels, and strive to plant enough mangroves to neutralise them.
Awareness and sustainability initiatives
Every year, more than 73 million sharks are killed by humans. You'll help run campaigns, workshops and outreaches, to raise awareness around this problem. Part of this is communicating with the local community that sharks are important for the environment and sustainability. Inspire younger generations to continue to protect sharks in the future.
These are some of the activities you can take part in:
Conduct workshops to teach local people about the importance of marine conservation, including sustainable living
Run classes with school children on recycling, climate change, and sea creatures
Collect plastic bottles from partner restaurants and resorts to repurpose them as pots for our mangrove nursery
Our partners in Fiji
Projects Abroad strives to make a significant contribution to global shark conservation efforts. We also want our volunteers to have an amazing experience with as much support as they need. In Fiji, we work with many great partner organizations to make this possible.
An important part of protecting marine life is diving to collect data. Our partners, PADI and Beqa Adventure Divers, make sure every volunteer can participate in this work.
We've also partnered with major conservation organizations like WWF, Project AWARE, SharkBase, and Friends for Sharks. We share our data with them, so the work you do can have an even greater impact on shark protection policies.
Where in Fiji will I work?
Pacific Harbour
On this project, you'll be based in Pacific Harbour - the 'adventure capital of Fiji'. This popular tourist area is on the south coast of Viti Levu.
Most of your time will be spent doing research on scuba dives off the coast of Pacific Harbour. These dives are in the renowned Beqa Lagoon and the Shark Reef Marine Reserve. You'll also help with conservation and awareness efforts in coastal communities.
In your free time, there's plenty to do, including some adrenaline-filled activities. There's kayaking, ziplining, and white water rafting. The island also has great hiking trails among breathtaking waterfalls and lush rainforests. If relaxing is preferred, Pacific Harbour has some of the finest white-sand beaches on the island.
A typical day on the Shark Conservation Project
A typical work day will run from 7am to 4pm, Sunday to Thursday. All your activities are supervised by trained local professionals, including qualified marine biologists.
After breakfast with your fellow volunteers, you could head out on a boat to deploy two Baited Remote Underwater Videos (BRUVs). You'll then scuba dive for 90 minutes scuba dive to monitor and collect data on the marine life. These dives will be done with our partners, Beqa Adventure Divers. They're at the forefront of shark protection in Fiji and have a 100% safety record on shark dives.
Then you'll watch the BRUV footage you recorded to identify species. On some afternoons you'll teach people in a nearby village about the importance of sharks. This can include an awareness workshop, teaching school children about recycling, or sitting in a lecture about shark identification.
There will also be opportunity to learn about Fijian life. You'll learn how to cook local food, make 'bilo' - traditional coconut cups, or weave palm fronds.
After dinner with the other volunteers, your evenings are usually free. Use this opportunity to explore Fiji. Go trekking through the highland interior or attend a traditional festival. Or, simply relax by the swimming pool, drink kava and watch the sunset on this island paradise.
What are the goals and impact of this Shark Conservation Project?
The goal of this project is to protect the shark population around Fiji. We started this project in January 2014 in response to the declining shark population in the area. The Fijian government has identified shark protection as a top conservation priority. Although some measures have been put in place, like marine protected areas, the shark population continues to decrease.
"Sharks are more vulnerable today than ever before." – Boris Worm, Professor of Biology, Dalhousie University, Canada
Sharks are the top predators in the marine food chain, and therefore play a vital role in the ecosystem. If sharks were to go extinct, there would be devastating consequences for many other forms of life, including humans. Without sharks, a destructive chain of events would lead to an increase in algae, which would choke coral reefs and eventually kill them.
If coral reefs die, thousands of species will lose their habitat. This would take away a major income source for local fishermen and a primary food source for Fijian locals.
To make sure we work towards long-term goals, we've created a Conservation Management Plan for Fiji. Some of our objectives in this plan are to:
Collect data on marine life to inform conservation policies
Plant mangroves to create the first carbon-neutral resort in Fiji
Raise awareness about shark conservation
Promote sustainable living in local communities
Join a Shark Conservation Project in Fiji and help us achieve these goals.
Management Plans
We set out the aims and objectives of our projects in documents called Management Plans. We use them to properly plan the work you'll do. They also help us measure and evaluate our achievements and impact each year.
Ultimately, our Management Plans help us make our projects better. This in turn means you get to be part of something that makes a real impact where it's needed. Read more about our Management Plans.
Measuring Our Impact
Our projects work towards clear long-term goals, with specific annual objectives. Every volunteer and intern we send to these projects helps us work towards these goals, no matter how long they spend on our projects.
Every year we take a step back and look at how much progress we've made towards these goals. We put together a Global Impact Report, which documents our achievements. Find out more about the impact our global community of volunteers, interns and staff make, and read the latest report.
I decided to join the Shark Conservation Project in Fiji because of my love for sharks and marine conservation. I find sharks a truly fascinating group of animals, and I have always been keen to study them.
Shark Conservation Volunteering in Fiji
As a scientist-in-training I was most impressed with all of the science underlying the project and how willing the staff was to share their knowledge. I was able to see science in action as well as conservation efforts making their way up the chain to actually change environmental policy.
Shark Conservation Volunteering in Fiji
Not quite what you're looking for?
Take a look at the following pages where you'll find collections of similar projects: