Put your strength, time and energy into rebuilding schools devastated by earthquakes. Give young children a chance to learn in a safe environment. Every day you'll see solid walls take shape as you create friendships with fellow teenagers from around the world. Do this and so much more as a volunteer on our Building Project in Nepal for high school students.
In early 2015, a deadly earthquake hit Nepal. Schools, homes, and other vital structures were torn down. In the same year, Projects Abroad began recruiting volunteers to help rebuild schools lost in the devastation. Our work is not yet done, and we need your help.
You'll work alongside teenagers from around the world along with local engineers, architects and our staff in the incredible Kathmandu Valley. We arrange social events in the evenings and an amazing weekend trip, so you'll have plenty to do both during and after work!
When you apply you only pay $295, which comes off the total price.
Looking to do more than one project? Call us on (+1) 917 810 4744 to see if we can offer a discount.
Project Overview
High School Specials - Hassle-free, pre-planned trips for 15-18 year olds that help you step out of your comfort zone
Fixed dates during school break
This project is only for 15-18 year olds
What's included in the price?
Accommodation

Food (three meals a day)

Travel and medical insurance

Airport pick-up and drop-off

Full induction and orientation by an experienced staff member on arrival

Transport to and from your work placement

In-country support and 24-hour back-up from our team of full-time local staff

Emergency assistance from our international emergency response team

Project equipment and materials, including access to our database with thousands of resources

A supervisor/mentor at your work placement

Training and workshops from our experienced local staff

Regular social events and community activities with other volunteers and interns

Access to our local office with internet connection

Certification of project completion

Access to our alumni services and discounts

Visa support and advice

Fundraising support, including your own personalized fundraising website

Pre-departure preparation by your own specialist Volunteer Advisor

Personalized MyProjectsAbroad website, with all the information you need about your project, accommodation and destination

A cultural awareness course

Membership to our volunteer social media groups, to share information and to get in touch

Organized weekend tourism trips

Dedicated full-time staff members with you 24 hours a day

Support to help you complete registration or internship documents, if applicable
What's not included?
Flights

Visa costs (where applicable)
Is volunteer construction work in Nepal right for me?
Our building programme for high school students is perfect for any teenager wanting to travel for a good cause. You'll make a visible difference and give Nepali children the chance to continue learning in safe classrooms.
You don't need any building experience. We have a team of skilled masons, architects, and engineers ready to assist you. Work is guided, safe, and gives you on-the-ground insight into basic building techniques.
Experience days on a real building site, ask staff questions, and learn from their expertise. Add your volunteering experience onto your CV and talk about it when you apply to university or for a job.
This project is specifically designed for teenagers. We have a set itinerary in place and extra staff support available.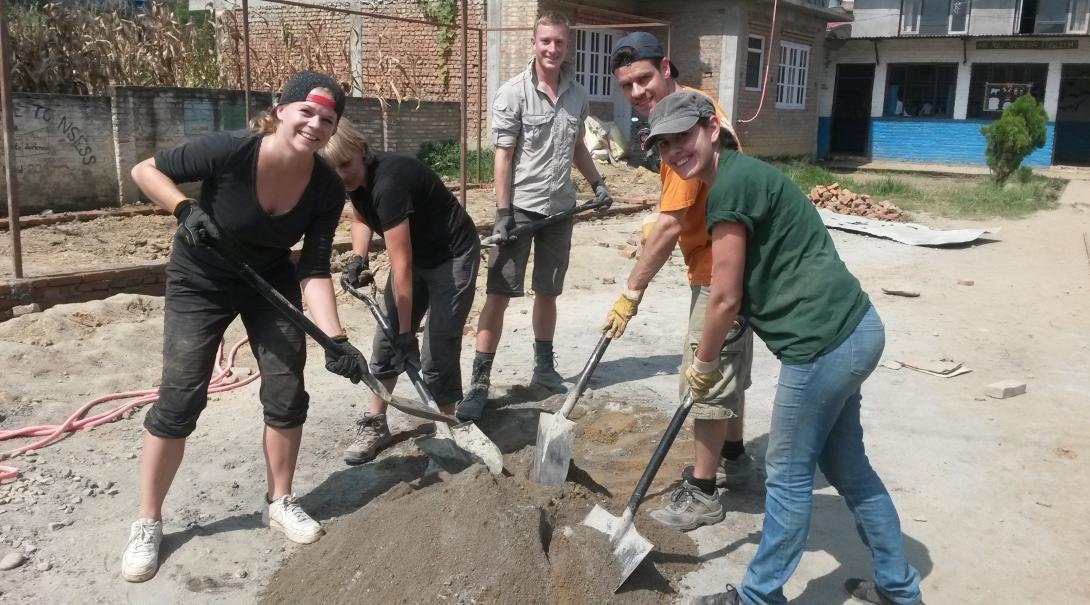 What will I do on this project?
The more willing hands that join us, the quicker we're able to build more classrooms for young children in Nepal. You'll be working with a group of other teenagers, so you can have a big impact in a short amount of time. Here are some of the tasks you can expect to do:
Build classrooms from the ground up
Renovate existing classrooms
Take part in activities with the children
Experience Nepali culture during excursions and trips
Your work will focus on the following areas:
Build classrooms from the ground up
On arrival in Nepal, you get your hands dirty straight away! Dig foundation trenches, put your strength into mixing cement and concrete, and lay bricks as a supervisor guides you. This is also a great opportunity for you to speak to the experts on site about building techniques and how to pursue a career in engineering, architecture, or as a mason.
Renovate existing classrooms
Learning should be fun, engaging, and take place in a colourful environment. One of your main tasks will be to help renovate new classrooms. Let your creativity shine; paint walls from ceiling to floor or create murals of the ABCs or 123s. This will not only brighten the classroom, but can be used by the teacher for lessons at a later time.
Take part in activities with the young children
Another aspect of this project is being able to meet and play with the children who'll learn in the classrooms you're building. Learn some Nepali from the kids and teach them a bit about your home country.
Experience Nepali culture during excursions and trips
Your time in Nepal will be guided by a jam-packed schedule filled with rewarding work and the opportunities to have heaps of fun! Enjoy a weekend trip to Pokhara and visit the ancient temple of Changu Narayan. Also use your time in Nepal to shop for traditional clothing and souvenirs, or learn Nepali during language classes.
Where in Nepal will I be working?
Kathmandu
During this Building High School Special, the bustling city of Kathmandu will be your home. Take advantage of a once in a lifetime opportunity to live and work in Nepal, home to the Himalayas.
Most of your short term project will see you working at school building sites to rebuild and renovate classrooms. You will stay in safe and comfortable accommodation organised by Projects Abroad.
Eager to experience the cultural and tourist side of Nepal during your volunteering trip? Your schedule is loaded with quiz nights, a chance to souvenir shop, a weekend trip to Pokhara, and so much more!
What are the aims and impact of this project?
The aim of this project is to build classrooms for schools destroyed during the earthquakes that struck in 2015. By May 2017, we had rebuilt 96 classrooms with the help of more than 500 volunteers. Because of these efforts, more than 2,000 children were able to resume schooling in safe classrooms. What a feat!
We continue to send volunteers to Nepal to build classrooms which will become places where young students learn and thrive. Your short building project will leave a visible and positive impact in the local Nepali community and in the lives of the young children long after you've left.
"I felt so grateful to all Projects Abroad volunteers for helping out our school during such a difficult time. I also don't have a word to thank them. I have seen them working so hard in the heat and rain to complete the school. I will always be grateful for all the volunteers of Projects Abroad," said Sunrise School Principal, Mr. Surendra Maharjan.
Lastly, this project is also about giving you the opportunity to travel safely to a unique destination and make new friends from other parts of the globe. Come and join us this summer!
Overall, my trip was an unforgettable experience, and inspired me and, I think, everybody in our team to volunteer again.
Volunteer Building in Nepal for Teenagers
Management Plans
We set out the aims and objectives of our projects in documents called Management Plans. We use them to properly plan the work you'll do. They also help us measure and evaluate our achievements and impact each year.
Ultimately, our Management Plans help us make our projects better. This in turn means you get to be part of something that makes a real impact where it's needed. Read more about our Management Plans.
Measuring Our Impact
Every year, thousands of High School Special volunteers and interns actively make a difference around the world. During their time abroad, they contribute towards achieving long-term goals and make a long-lasting positive impact on the communities where they work.
We produce an annual High School Specials Impact Report, which documents some of these achievements. Find out more about the impact of these projects, and read the latest report.
Not quite what you're looking for?
Take a look at the following pages where you'll find collections of similar projects: