Travel to Africa and give children the chance to learn in a safe classroom, or help build a home for a family in need on a Building Project. You'll put your energy and time into building houses and schools in communities that desperately need extra support. You can work in Tanzania or Ghana.
You'll do hands-on work everyday. It's a different and rewarding way to challenge yourself. In the process, you'll discover what you're capable of as you give communities the support they need. Our local masons, architects, and builders will guide your work and teach you everything you need to know.
If you're have experience with building, you'll also have the chance to learn new methods of building and share your ideas with the local building teams. Building materials and tools at your placement will be more basic than what you're used to. It will give you a deeper insight into how people overcome challenges like a lack of resources.
Use your building volunteer experience in Africa to enhance your resume, gain hands-on experience, and network with volunteers from across the globe. Our staff will also gladly write a reference letter for your university or job application if needed.
Choose a Building Project in Africa
1-3 of 5 Projects
Building Volunteer Work for Teenagers in Tanzania
See this project
Price:

$3,490 CAD for 2 weeks

Extra Weeks:

$715 CAD

Start Date:

During school break

Minimum Duration:

2 weeks

Ages:

15-18
Building Volunteer Work in Ghana
See this project
Price:

$2,520 CAD for 1 week

Extra Weeks:

$440 CAD

Start Date:

Anytime

Minimum Duration:

1 week

Ages:

16 or over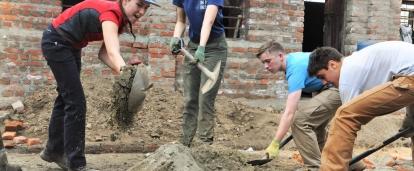 Building Volunteer Work in Nepal
See this project
Price:

$2,295 CAD for 1 week

Extra Weeks:

$440 CAD

Start Date:

Anytime

Minimum Duration:

1 week

Ages:

16 or over
Load More
Can't find what you're looking for?
We'd be happy to talk about creating a custom project for you. Most of our staff have been volunteers themselves, so they're ready to answer your questions, big or small.
(+1) 917 810 4744
or email:
Get in Touch
to start planning your project
What will I do on a Building Project in Africa?
A Building Project is a great way for you to make a tangible difference while also realizing your own potential. It will help you:
Learn about global issues related to learning environments, sanitation, and housing
Demonstrate your commitment to helping others
Learn to find solutions to real problems
Explore a culture different to your own
Whether you're building houses or schools in Africa, you'll be part of positive change. Each of our Building Projects has been researched and has specific goals that you'll work towards.
If you'd like to work more independently, we recommend our Building Flexi Trips. We also have Building High School Specials for younger students between the ages of 15 and 18.
Speak to our Project Experts about what you're interested in doing and we'll guide you to the right project.