Ready for the adventure of a lifetime? For an experience that lets you help others and add global experience to your resume, join our volunteer opportunities in South America. We offer a range of programs that propel you into a place where you can experience something wildly different and exciting. You can do things like:
Practice suturing at an anatomy museum and shadow doctors at a busy hospital through our medical internships in South America, based in Cordoba, Argentina.
Take on conservation volunteering in South America, and explore and protect the astonishing biodiversity of the Galapagos Islands, famously documented by Charles Darwin.
Learn Spanish on any of our programs as you volunteer in South America. You can do a Language Course as a complete beginner, or as an intermediate speaker eager to practice conversation with fluent locals.
These are just a snapshot of the best volunteer programs in South America that we offer.
Whatever kind of volunteer work in South America you choose to do, we take care of all details and provide a hassle-free experience. All you need to do is focus on what's important to you: making the biggest impact possible at your project. Our staff are also available 24/7 to help when you need it. They'll help ensure you get the most out of your time in-destination.
How to volunteer in South America
Ready to volunteer overseas, but unsure where to start? Well, it's simple! Just follow these steps to turn your dreams into a reality:
Think about the voluntary work in South America you'd prefer to do, whether that's educating young children, rehabilitating wild animals in the Amazon Rainforest, or medical volunteering. If you have your heart set on a particular country, then choose your favorite from the projects we offer in that destination.
Reach out to our Project Experts, who can provide more information and help you make the right choice according to your interests and goals.
Decide how much time you have to travel to a South American country, how flexible your dates are, and if you'd rather travel solo or as part of a group. This will determine what kind of trip is right for you, whether that's an independent Flexi Trip, Team Trip, or a High School Special.
Once you know which country you want to visit, what type of work you'd like to be doing, and the length you wish to travel for, there's nothing left to do but fill in the application form and book your place!
Best places to volunteer in South America
Where you choose to go influences the type of work that you're able to do. In South America, we run volunteer programs and internships in:
Each country offers something slightly different, whether it's the culture, scenery, or the social issues your program focuses on. For example, you can explore fascinating ancient Incan ruins on our Archaeology Project in Peru. Likewise, the amazing biodiversity of the Galapagos Islands is one of Ecuador's extraordinarily unique features. In Argentina, you can learn about equine therapy and the impact it has on children with disabilities.
South America faces many challenges today. Social inequality, limited access to healthcare in rural, disadvantaged communities, and habitat loss are some of the major issues. Think about where you want to use your time and energy, and help us provide sustainable solutions in local communities.
Summer Volunteer Programs in South America
Our South America volunteer trips run year-round, but summer has proven the most popular time to volunteer for high school and college students. If you have a more flexible schedule, and can take the time to volunteer outside the summer months, we encourage you to do so! There are some special projects, like our teacher training program in Peru, that only run in the winter.
Interested in summer medical volunteer opportunities in South America? High school students can travel to Argentina or Peru, and spend their break learning directly from experienced doctors, and practising basic medical skills like measuring blood pressure levels. Pre-meds and medical students can study general medicine in the same countries, but can choose from a wider range of programs, including:
Scroll to the bottom of the page for a complete list of the volunteer opportunities in South America that we offer in summer (all of our fixed-date programs - like High School Specials or Team Trips - have summer dates).
Can I volunteer in South America for free?
People often ask us if they can volunteer in South America for free. As we're an organization that doesn't depend on external or government funding, free volunteering isn't something we offer. We rely on the fees that participants pay, and this guarantees that we can:
Ensure the highest levels of safety, along with 24/7 staff support.
Provide a hassle-free experience by dealing with all the logistics from the moment you apply.
Commit to long term, sustainable development, regardless of whether we have volunteers present year-round.
Read more about why volunteering abroad for free isn't always a good idea.
The cost of volunteer work in South America depends on where you go, what you do, and how long you volunteer for. But it's probably not as much as you think. Especially when you consider that our program fees include:
Three meals a day
Accommodation
A full project
Transportation to and from your placement
Plus, the longer you stay, the lower the cost per week!
You can also take advantage of our flexible payment plans. We understand that paying in one go isn't always possible, so we just ask for an initial deposit and then you can pay as much or as little as you like in a series of small installments. We're completely flexible, but the fee does need to be paid in full before you leave for your program. We also offer advice and support for fundraising, so you can raise the funds you need.
Is it safe to volunteer in South America?
We understand that safety is important when you volunteer overseas, especially if you're traveling for the first time. When you volunteer with us, you can rest assured that the country you're placed in is politically stable and safe to visit. In addition, our trained local staff keep a close eye on changing situations.
As always when traveling, volunteers in South America should stay alert. Our staff will be on hand to offer tips and advice on keeping yourself and your belongings safe. They're contactable 24/7.
Choose a South America Trip
1-3 of 61 Projects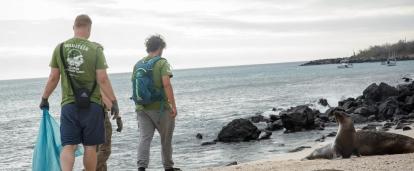 Take a Gap Semester Abroad in South America
See this project
Price:

$8,795 CAD for 8 weeks

Extra Weeks:

$850 CAD

Start Date:

Throughout the year

Minimum Duration:

8 weeks

Ages:

17-24
Giant Tortoise & Sea Lion Conservation in the Galapagos Islands
See this project
Price:

$3,295 CAD for 1 week

Extra Weeks:

$540 CAD

Start Date:

Anytime

Minimum Duration:

1 week

Ages:

16 or over
Volunteer with Children in Peru
See this project
Price:

$2,735 CAD for 2 weeks

Extra Weeks:

$440 CAD

Start Date:

Anytime

Minimum Duration:

2 weeks

Ages:

16 or over
Load More
Ready for your next adventure?
We have the expertise and staff on the ground to create a custom project for you, or simply help you find the best option.
Speak to one of our South America experts on:
(+1) 917 810 4744
or email:
Get in Touch
to start planning your project