Equip yourself with the skills and knowledge needed to further your career with a Projects Abroad Occupational Therapy internship. You'll learn about occupational therapy practices in a global context and deepen your understanding of local healthcare challenges.
Your internship can take place at one of several settings, including hospitals, schools, community centers, daycares, and specialist rehabilitation centers. You'll learn directly from skilled local professionals and observe them as they go about their day.
This educational experience will give your resume the edge it needs to stand out. It's also a great opportunity for personal growth, as you develop your confidence and gain a global perspective.
Can't find what you're looking for?
We'd be happy to talk about creating a custom project for you. Most of our staff have been volunteers themselves, so they're well placed to answer your questions, big or small.
(+1) 917 810 4744
or email:
to start planning your project
Is an Occupational Therapy placement abroad right for me?
You can intern with any skill level, whether you're new to the field or have previous experience. Thinking about pursuing a career in occupational therapy? Doing an internship can help you decide, by giving you exposure and insight into the field.
Are you a current occupational therapy student? An internship is a great way to supplement your learning with real-world experience. Maybe you're a qualified occupational therapist looking for a new challenge? Your skills will be put to use on a placement that will really broaden your horizons.
While abroad, our local Projects Abroad staff will support you all the way. You'll also be working with professionals who will be there to guide you through your work. There will be opportunities to take part in outreach work in communities in need. These events allow you to give back to others while you learn.
Our Occupational Therapy internships will prepare you for the next stage in your studies or career. You'll boost your resume for all future applications for jobs or further study.
If you're currently a student, you prefer the option of our Occupational Therapy Electives. Or, maybe you'd prefer a related field: we have a range of Physiotherapy internships on offer. Read our full list of projects for internships abroad.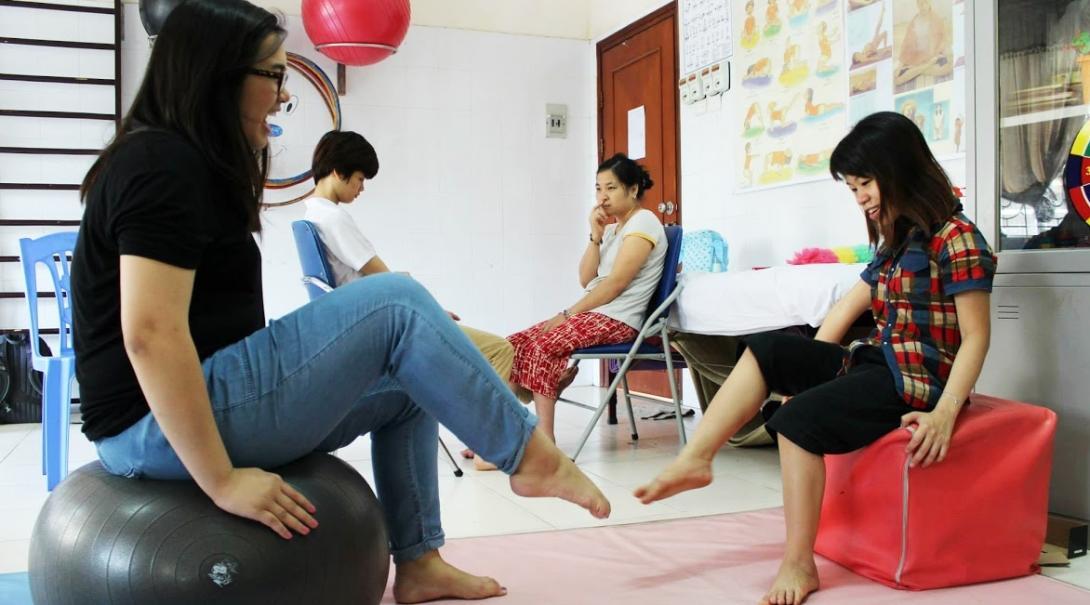 What are the benefits of an Occupational Therapy placement abroad?
There are many ways you'll benefit from experiencing an Occupational Therapy work experience placement. You'll gain skills and knowledge that will help you in your future career in the field.
You'll benefit from:
Skills like teamwork, communication, leadership, resilience, organizing, planning, and time management
Experience with illnesses and medical conditions less common back home
In-depth work experience opportunity that might not be possible in your home country
Developing a global mindset from working and empathizing with people from different cultures and backgrounds
Confidence from challenging yourself outside of your comfort zone
All of the above will improve your resume to give it the edge it needs for future applications. The experience will also add meaningful personal development to your life.
Why does this internship matter?
This experience will bring you closer to a future working in your chosen field. We're proud to support future talent who will bring vital skills to communities in need.
What sets Projects Abroad's Occupational Therapy internships apart?
At Projects Abroad, our first aim is to benefit the communities we work in. Our internships are ethical and well supported. Here are some factors that set us apart:
We record our work in a secure database
We have a Global Impact Database to track the positive impact of our projects. It's secure and anonymous and we use it to identify specific areas of need. The data we record helps us shape aspects of our work, like medical outreaches and health awareness campaigns. We also use it to monitor the progress of individuals, report our results and collect data for research. All this work follows our carefully researched Management Plans.
Real work with trained professionals
As an intern, you'll work alongside real healthcare professionals. You can observe them in their everyday work, ask questions and hear more about their experiences. You're likely to get greater exposure to the frontline of medical care than in your home country.
A tailored approach
We are often able to tailor your internship to suit your interests. You can work in more than one department or focus on one particular area, and experience outreach work in the local community.
Our Medicine & Healthcare policy
We take the safety of our volunteers, interns, and the people they work with very seriously. That's why we've put in place a comprehensive Medical Ethics Policy.
Not quite what you're looking for?
Take a look at the following pages where you'll find collections of similar projects: