Join us for a Medical internship in Nepal and kick-start your future career in medicine. You'll learn from local doctors and nurses as they go about their daily tasks in either a hospital or rehabilitation centre. This will give you invaluable insight into the healthcare challenges of a developing country.
You'll also gain practical experience in doing basic health checks and administering medication on one of our medical outreach days. This will all be under the supervision of a local professional.
Be prepared to learn about rare diseases you've only read about in text books. We'll teach you about their diagnosis and treatment and show you practical examples to back up the theory.
Based either in Kathmandu or Chitwan District, you are bound to enjoy a memorable and immersive experience in the midst of the majestic Himalaya mountain range.
When you apply you only pay $295, which comes off the total price.
Looking to do more than one project? Call us on (+1) 917 810 4744 to see if we can offer a discount.
Project Overview
Flexi Trips - A flexible project that gives you the support and independence you need as you volunteer
Completely flexible dates
Anyone aged 16 or over can join
What's included in the price?
Accommodation

Food (three meals a day)

Airport pick-up and drop-off

Travel and medical insurance

Full induction and orientation by an experienced staff member on arrival

Transport to and from your work placement

In-country support and 24-hour back-up from our team of full-time local staff

Emergency assistance from our international emergency response team

Project equipment and materials, including access to our database with thousands of resources

A supervisor/mentor at your work placement

Regular social events and community activities with other volunteers and interns

Training and workshops from our experienced local staff

Access to our local office with internet connection

Certification of project completion

Access to our alumni services and discounts

Visa support and advice

Fundraising support, including your own personalized fundraising website

Pre-departure preparation by your own specialist Volunteer Advisor

Personalized MyProjectsAbroad website, with all the information you need about your project, accommodation and destination

A cultural awareness course

Membership to our volunteer social media groups, to share information and to get in touch

Support to help you complete registration or internship documents, if applicable
What's not included?
Flights

Visa costs (where applicable)
Is this Medical Internship in Nepal right for me?
This Medical internship in Nepal is open to all ages and ideal for those with a keen interest in pursuing a career in medicine.
It's a great opportunity to gain some practical experience while working alongside doctors and nurses in Nepal.
Whether you're a high school student preparing for university applications, or already enrolled in a medical degree, this project is sure to add value.
It's also an excellent opportunity to gain invaluable insight into the healthcare system of a developing country. This is what will give your CV an extra edge.
What will I do on this international medical internship in Nepal?
You'll be working in either a hospital or rehabilitation centre. In both cases, there's a massive scope of work for medical interns in Nepal. Here are some of the tasks you can expect to do during your placement:
Your work will be split in four main areas:
Observation
Shadowing and observation are a huge part of this project. You'll follow local doctors and nurses as they go about their daily tasks. While doing this, you will learn about the area's common diseases, their diagnoses, and treatment.
We aim to create a platform for a true cultural exchange, with you learning from local staff and then sharing your experiences with fellow interns.
Outreach Work
We also organise outreach days to give you some practical medical work experience in Nepal. You'll take time out from your regular schedule and join other interns together as a group.
During these outreaches, you will assist doctors and nurses with free health checks and administering basic medication in the suburban or remote communities of Kathmandu. This could include:
Blood pressure checks
Weighing
Heart rate monitoring
Hygiene workshops
From time to time we arrange health and hygiene classes at local schools. Here you will help teach local children a few basics, such as:
Dental/oral hygiene
Hand washing techniques
Personal hygiene
First Aid
Nepal is particularly vulnerable to natural disasters, such as earthquakes. Because of this, you'll help us run basic first aid workshops for care centre staff, parents, and community members. By doing this, you equip them with the necessary skills to help out during a disaster.
Please note that your role as a medical intern in Nepal is strictly observational, as the government does not permit practical involvement in hospitals from those who are not licensed medical professionals.
Types of placements available
During your international medical internship in Nepal, you will be able to work in a number of different departments, such as:
General health services
Orthopaedics
Paediatrics
Dental services
ENT
X-ray
Ultrasound
Ophthalmology
If you're interested in a specific department, please feel free to contact us and we can help advise you.
Where you will be working in Nepal
Depending on your fields of interest and/or skills we will place you at either a hospital or a rehabilitation centre for disabled children.
These placements will be located in either Kathmandu or Chitwan.
Kathmandu
A sprawling city where Himalayan adventurers rub shoulders with ascetic holy men, Kathmandu truly is a feast for the senses.
With an estimated population of 3 million living in the Kathmandu Valley, health services are often stretched thin, especially in rural areas.
Chitwan
Known as the Medical City of Nepal, Chitwan is home to a variety of top-rated medical institutions.
Drawing people from all across the country, northern India and other parts of the Himalayan region, it's become something of a medical tourism hot spot over the past few years.
What your typical day will be like
On any given day, you will work shifts alongside your professional supervisors.
Whether you start early in the morning or sign up for an evening shift, you will be shadowing local doctors and nurses closely as they make their rounds.
At least once during your placement, you'll get the opportunity to join an outreach for a day or two, which will take you to rural communities or local schools.
During the hours you aren't working, you'll have ample free time to explore with your fellow interns, taking in Nepal's rich cultural heritage and spectacular natural beauty. Visit one of the many temples in the old city centre of Kathmandu, sample the delicious local food or go for a hike in the mountains.
Since you will be living with a local host family, use any opportunity during free time to get to know them better, and fully immerse yourself in their way of life.
What are the aims and impact of this project?
The main aim of this project is to give you the opportunity to expand your medical knowledge and give you insight into healthcare practices in a developing country.
With up to 25% of the population in Nepal falling under the poverty line, access to basic healthcare does remain a challenge for certain vulnerable groups. We arrange for you to provide free basic healthcare to some of these groups. This is done through our outreach programmes, under the supervision of local professionals. We also enable you to help raise awareness about some of the more pressing health issues facing the country.
To ensure that we stay true to our long-term vision, we have committed to four goals as outlined in our Medical Management Plan:
Encourage an understanding of medical practices and promote an exchange of medical knowledge
Improve hygiene standards
Promote awareness of non-communicable diseases
Improve access to basic healthcare for disadvantaged groups
Gain medical work experience in Nepal while helping us achieve these goals.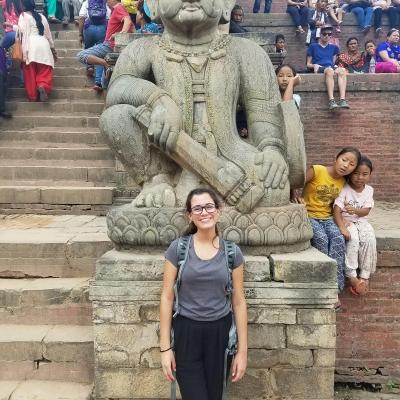 I was able to shadow doctors throughout many departments within the hospital. This is where I was able to watch my first surgery! It was quite the experience. I was also able to volunteer in the outpatient department as well as the radiology oncology unit.
Medical Internship in Nepal
From the moment I got off the plane in Nepal, I felt the support of Projects Abroad. They picked me up from the airport, took me to the hotel, went over the project I would be working on and then showed me around Thamel.
Medical Internship in Nepal
Medical Electives for Students
This project is also perfect for university medical and healthcare elective students. The real-world insight and knowledge you gain will help shape you as a future medical professional. You will also learn to work with different people and get a broader perspective of global healthcare systems and issues. This benefits your career for years to come. We can organise a placement that meets all of your university's requirements.
Management Plans
We set out the aims and objectives of our projects in documents called Management Plans. We use them to properly plan the work you'll do. They also help us measure and evaluate our achievements and impact each year.
Ultimately, our Management Plans help us make our projects better. This in turn means you get to be part of something that makes a real impact where it's needed. Read more about our Management Plans.
Measuring Our Impact
Our projects work towards clear long-term goals, with specific annual objectives. Every volunteer and intern we send to these projects helps us work towards these goals, no matter how long they spend on our projects.
Every year we take a step back and look at how much progress we've made towards these goals. We put together a Global Impact Report, which documents our achievements. Find out more about the impact our global community of volunteers, interns and staff make, and read the latest report.
Not quite what you're looking for?
Take a look at the following pages where you'll find collections of similar projects: